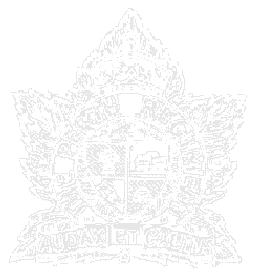 Hutchinson, Capt. Edmund Mann
Enlisted:
Double-click on picture to expand
Picture Courtesy Grant Tipler
Additional Information:
Cpl, 02Sep39; CSM, HQ Coy(Dec39); CSM, Camp Borden(Sep40); P/2Lieut, 31Mar & 24Sep41(WD) & 21Oct41; Lieut, ReinfUnit, 11Apr42; Lieut, appt'd A/Adjt, 01Jul42(WD); Capt, Adjt, BHQ, 06Feb43(WD); Cdn Corps planning staff for D-Day. Awarded U.S. Bronze Star & Mentioned in Dispatches. Commanded Perth Regt., Jan-Sep1954(obituary); CO, 1955-59
MID
Obituary Information:
HUTCHINSON, Edmund Mann
Lieutenant-Colonel (Ret.)
In his 98th year, after a long and happy life well-lived, Ed died peacefully on Friday, May 2, 2014 at his retirement residence with his family at his side. He is survived by his two daughters, Mary Anne McMahon (Michael) and Cathy Peters, as well as great friend Gordon Peters, all of Ottawa. He leaves behind many nieces, nephews, cousins and friends across the country and around the world. Ed was predeceased by his beloved wife Mary (McKeough) Hutchinson, and his parents Edmund and Christina (Kemp) Hutchinson. As the eldest in his family, he was also predeceased by all of his siblings, including sisters Catherine Hutchinson, Elsie (Hutchinson) Moore, and Elizabeth (Hutchinson) Buscher; and brothers, Murdoch, David, James and John Hutchinson. Born in Evanton, Scotland on July 14, 1916, Ed immigrated to Canada with his parents at a very young age, and built a successful life here that included a 30-year career with Employment and Immigration Canada. He
was a proud veteran of World War II, serving overseas as a member of the Perth Regiment, and later as the Regiment's Commanding Officer. During his many years overseas, Ed also served with the HQ2 Canadian Corps, where he had the privilege of being part of the planning operations for D-Day. Ed was recognized for his service to his country and his many medals including both the American Bronze Starand the Mentioned in Dispatches – Oak Leaf on Victory Medal. Ed's daughters would like to sincerely thank the staff of the Duke of Devonshire for the wonderful care provided to their dad throughout his residency there. A Funeral Mass will be held at 11:00 a.m. on Thursday, May 8, 2014 at St. Basil's Catholic Church, 940 Rex Avenue, Ottawa. In lieu of flowers, donations may be made to the Ottawa Humane Society or a charity of choice. Ed was an officer and a gentleman who will be greatly missed and fondly remembered by all who knew him.